Introducing 10 new, pastel, matte, natural shadows from the new Soft Cocktail line - the perfect blend of shades from the Annabelle Minerals brand for the spring-summer season. The shadows are distinguished not only by delicate, subdued, spring colors - but the products have a new, unique formula based on natural, valuable clays. The finish of the shadows is matte - they do not contain shiny and glistening particles. Along with the matte finish, Soft Cocktail shadows do not lose the delicate Annabelle Minerals USP. Together with the perfect pigmentation of shadows, they blend fantastically - without creating spots and stains.
The shadows work very well with other loose and pressed products. With the use of Annabelle Minerals pastel shades, your makeup will glide beautifully onto your skin.
Due to the formula based on absorbing sebum and clays, Soft Cocktail eyeshadows can also act as a base for shadows, so they will be a great solution for people who have really greasy eyelids and have a lot of problems with eye makeup durability, or very often struggle with eyelid and conjunctival sensitivity. The clay base also creates many possibilities for applying shadows in a completely different way - Soft Cocktail shadows can turn out to be a great concealer under the eyes, powder, bronzer or blush. Eyeshadows perfectly prime colored products – the shades are perfectly multifunctional! Apply using wet techniques - best suited for color accents (e.g. flicks).
>> ANNABELLE MINERALS EYESHADOWS
Soft Cocktail: new collection of 10 clay eyeshadows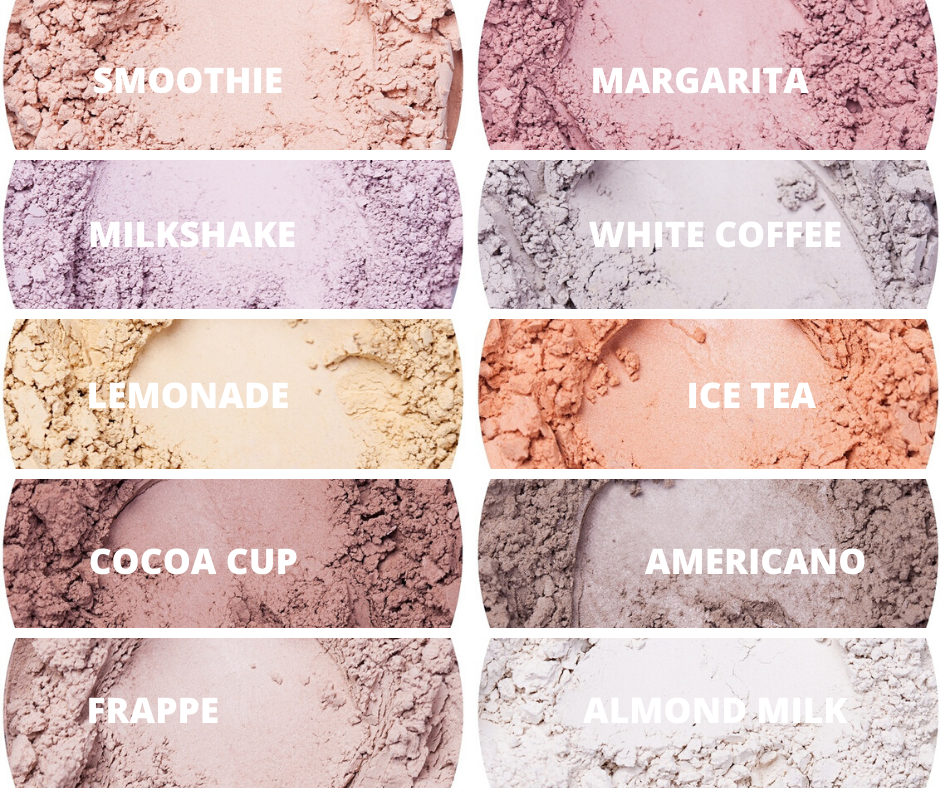 Almond Milk - very bright, clay, milky color. Ideal for use alone to brighten the eyelids, as well as brighten other mineral products (e.g. brand foundations). Perfectly fulfils the function of a base, especially to increase the color intensity.
White Coffee - an extremely light shade of cool grey in the new Soft Cocktail collection. Great for brightening eyelids and other mineral products.
Frappe - an extremely neutral, universal base shade of healthy beige. Perfect for everyday makeup. Essential in every women's makeup bag.
Milkshake - cool lilac pink. Milkshake is also a wonderful blush for a very pale complexion.
Americano - subdued, neutral beige with a delicate, olive tone. Perfect color modelling for the eyelids and face. It is not too brown or too cool. It also works as an eyebrow shadow.
Cocoa Cup - saturated cocoa warm brown with reddish undertones. A unique transition based color that does all the make-up. Perfect for fans of warm shades in makeup.
Smoothie - pastel peach color. Buff it on your cheeks as well, guaranteed to be your favorite blush!!
Ice Tea - a frozen, refreshing, apricot color. Perfect blush for fair to medium or a tanned complexion. Ice Tea will beautifully shape your eyelids and create an unusual, colorful eye line.
Margarita - medium-bright pink. Suitable for the entire eyelid or on the cheeks. Perfect in its simplicity. It will emphasize the beauty of almost any skin shade.
Lemonade - lemon, delicately toned. Use its unique color not only on the eyelids, but also in the eye area, especially if you have a problem with pigmentation and mismatched skin tone in this area.
Delicate, natural, perfectly pigmented, yet easy to use - these are the new clay eyeshadows by Annabelle Minerals. Be sure to familiarize yourself with the range and recall spring in your daily makeup.